Price list
High season / weekend prices apply from June to August, on public holidays and Estonian school holidays.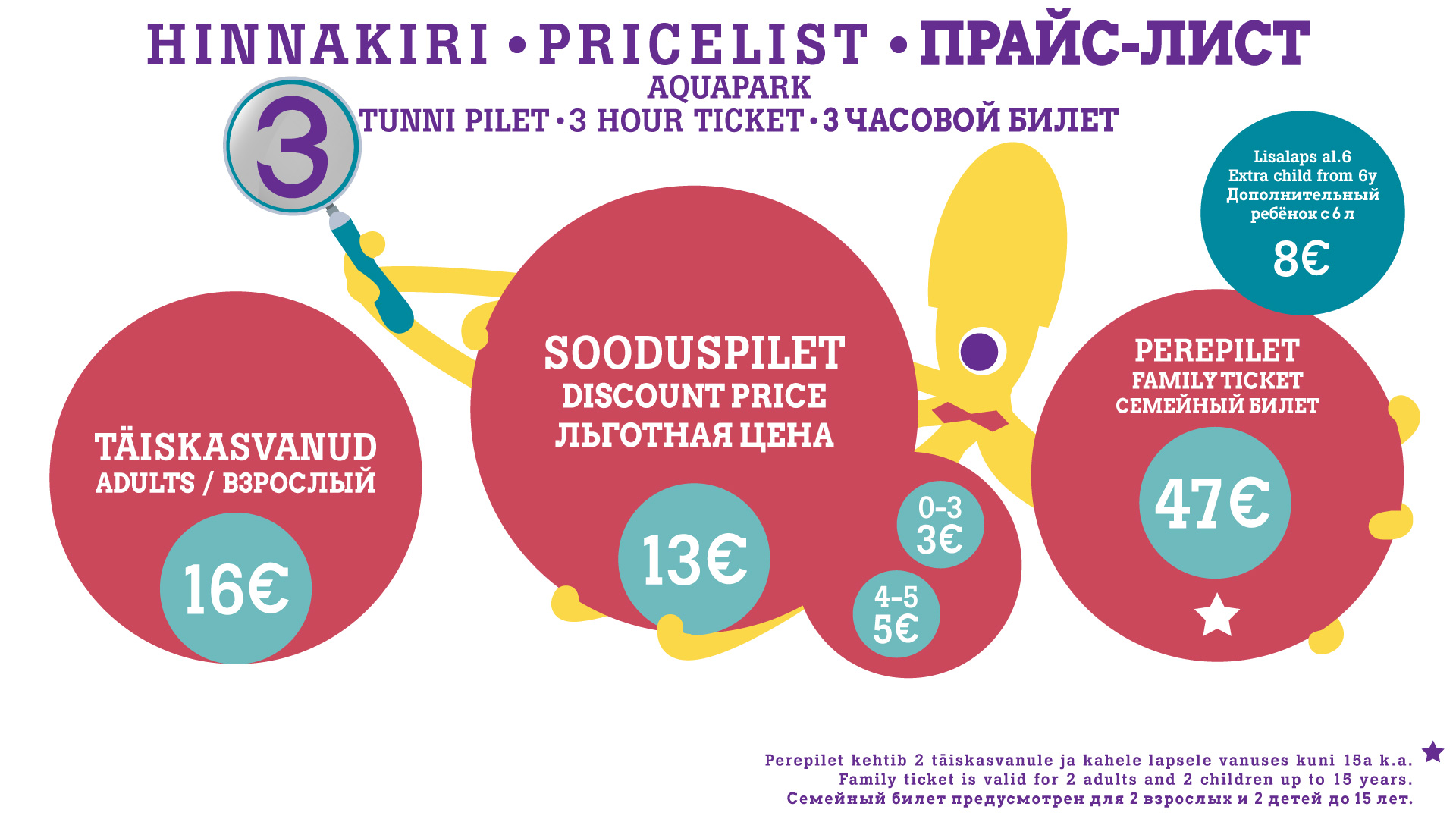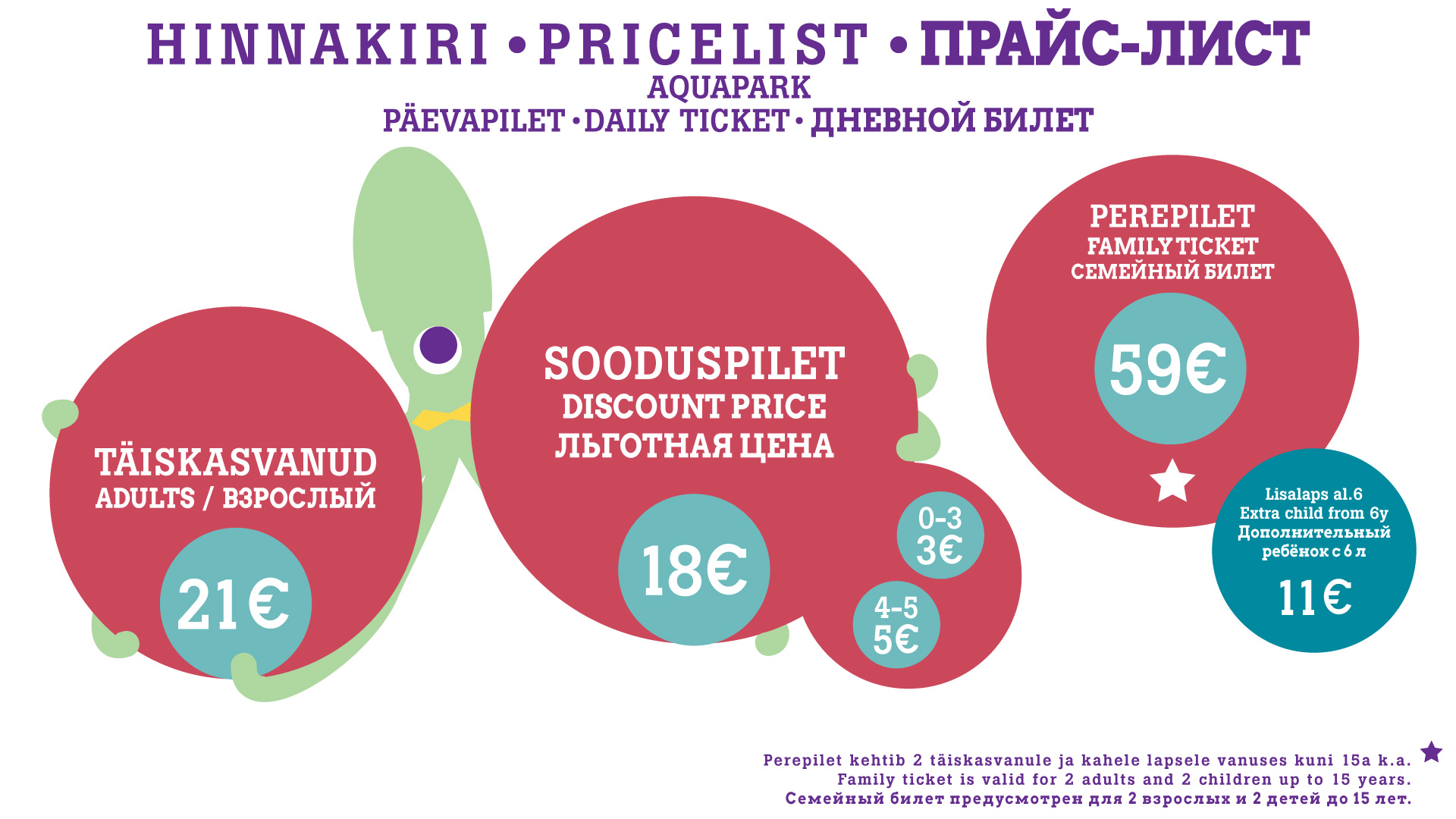 The Atlantis H20 Aquapark is connected to Tallinn Viimsi Spa and Sauna Center via a gallery. For an additional fee visitors to the Aquapark will be able to enjoy various spa and sauna pleasures (7 saunas, spa pools, children pools, 25m swimming pool).
The additional fee for the Spa and Sauna Center is 5 € / per person and 10 € / per family every day from 1 of June  to 31 of August.
Family ticket
Family ticket is valid for 2 adults and 2 children up to 15 years.
Family ticket 3-hours AQUAPARK 47 €
Family day ticket AQUAPARK 59 €
Family complex ticket 3-hours AQUAPARK + SAUNA CENTER  57 €
Family complex day ticket AQUAPARK + SAUNA CENTER 69 €
Extra children additionally to family ticket's 2 chd (unlimited):
Extra child 0-3y 3 €
Extra child 4-5y 5 €
Extra child from 6 years of age and 1,20 m in height
3-hour AQUAPARK 8€
3-hour AQUAPARK + SAUNA 10 €
Daily ticket AQUAPARK 11 €
Daily ticket AQUAPARK + SAUNA 13 €
Pricelist rules
Discount price is valid for kids from 6 years old of age and 1,20 m in height, for ISIC-and ITIC-card holders, for holders of valid Viimsi SPA Sports Club 10x and monthly membership cards.
Children

Child 0-3 years of age 3 €
Child 4-5 years of age 5 €

A child between the ages of 0-5 may enter the Sauna Center free of charge with a parent who has purchased an AQUAPARK+SAUNA ticket.
Children under 12 years of age may only enter the park in the company of an adult chaperone who is responsible for the children for the duration of their stay at Aquapark.
Each extra minute 0,12 € (7,20 € per hour)
Lock box rental 2 €
Bath towel rental 3 € (Compensation in the case of loss of the towel 5 €)
Bathrobe rental 5 € /adult, 4 € / child
Water slides
Purple / Black / Green water slide from 1,40 m
Orange / Blue / Limpa water slide from 1,20 m
Children under 1,20 m may only use the Blue water slide together with an adult chaperone.
Group price (student group up to 19 years of age)

Mon-Thurs, Fri morning 10 € + 1 free chaperone for every 10 students.
Fri evening, Sat and Sun 13 € + 1 free chaperone for every 10 students.

For a period of one week, you will receive a 20% discount on one regularly priced Viimsi Cinema ticket with an Aquapark ticket.
For a period of one week, you will receive a 20% discount on one regularly priced Atlantis H2O Aquapark single ticket with a Viimsi Cinema ticket.
The Atlantis H20 Aquapark is connected to Tallinn Viimsi Spa and Sauna Center via a gallery. For an additional fee visitors to the Aquapark will be able to enjoy various spa and sauna pleasures. The additional fee for the Spa and Sauna Center is 5 € per person and 10 € per family ticket every day from June to August.
It is possible to redeem the combo ticket for the Aquapark + Sauna Center at the Atlantis H20 ticket office. If you wish, you can add a visit to the Sauna Center to your Aquapark visit at the Aquapark's NOMNOM bar, and pay upon exiting.
Special offer for Tallinn Viimsi SPA registered hotel guests: unlimited visit to Atlantis H2O Aquapark during whole stay. A child between the ages of 0-5 may enter the aquapark free of charge with a parent who has purchased a ticket.
01.09 – 19.12.2019
Unlimited access to Atlantis H2O Aquapark during whole stay from Monday to Thursday for 5 €/person (from 6 years) and 15 €/family (2 adults and 2 children until 15 y.) and from Friday to Sunday for 10 €/person and 25 €/family.
01.06 – 31.08 / 20.12 – 05.01
Unlimited access to Atlantis H2O Aquapark during whole stay from Monday to Sunday for 10 €/person (from 6 years) and 25 €/family (2 adults and 2 children until 15 y.)
10% discount from all aquapark ticket types is valid for Tallink Club One card owners